Woman dies and two seriously hurt in Leominster crash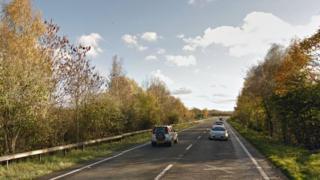 A woman has died and two other men have been seriously hurt in a crash involving three cars.
A woman in her 60s was confirmed dead at the scene, the ambulance service said.
The crash happened on Sunday evening on the the A49 Ludlow Road, between Leominster and Stockton, in Herefordshire.
West Midlands Ambulance Service said three cars a BMW, a Skoda and a Peugeot had been involved in a collision.
Two men who were in the BMW and believed to be in their 20s were "severely trapped". Paramedics and firefighters worked for an hour to free the first man, who suffered multiple fractures.
The second man was trapped for about 50 minutes and also suffered multiple injuries.
The driver and passenger in the Peugeot were uninjured.
West Mercia Police said the woman's next of kin had been informed and are appealing for witnesses.