Police poster tells offenders when to hand themselves in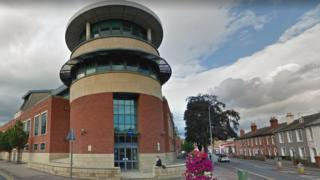 A poster put up at a police station advised wanted offenders of the best time to hand themselves in.
The sign appeared at Worcester Police Station and has since been taken down; West Mercia Police said it "does not reflect operational guidance".
Solicitors claim it highlights issues raised since cases from across the region were centralised at Kidderminster Magistrates' Court.
HM Courts and Tribunal service said the change is providing "swifter justice".
HM Courts and Tribunal Service (HMCTS) held a consultation in 2017 about centralising criminal custodial remand cases in magistrates' courts in West Mercia.
Following that it was announced that from April all overnight remand cases in Worcestershire, Herefordshire and Shropshire would be heard at Kidderminster.
Stephen Scully from Lanyon Bowdler Solicitors in Telford said the sign had first been seen on Monday but was taken down by Friday.
"What we are saying is that people are routinely being delayed a lot longer than they would have been," he added.
"We are regularly seeing people who aren't being remanded by 07:00 or 07:30, being kept until the following day.
"This sign shows the problems that police are seeing. They are saying they don't want their cells full up all day. If they have someone who is on watch, they have to have an officer with them, rather than going out on the beat."
West Mercia Police's chief inspector for custody, Ian Wall, said the poster was written in "good faith".
"Individuals wanted by the courts often hand themselves in at police stations and we would encourage them to do so at the earliest opportunity to allow us to process them efficiently through the system prior to any court appearance," he added
A HMCTS spokesperson said: "There have been no complaints about transport, and there is no evidence to suggest that there has been a significant increase in the numbers of defendants awaiting an available court, or that cases are not being heard within 24 hours."