Actor's disabled son told to leave theatre show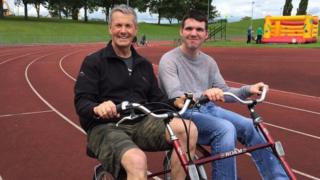 A disabled man was asked to leave a theatre show his father was acting in when an audience member complained because he was making noises.
Harry Boniface, 25, was watching Into the Woods at The Swan Theatre in Worcester, the Worcester News reported.
Martin Boniface said his son is non-verbal and has "profound and multiple" learning difficulties.
The theatre said it is "devastated" and would have dealt with it appropriately if it had been aware.
Harry, who communicates with sounds and signing, was making animal noises during the first half of a matinee performance of the musical when the woman in front turned around and "shushed" him, his father said.
Despite trying to explain his condition, Harry and his support worker left in the second half after the woman asked them to leave.
"Into the Woods is a great show for all ages, there's lots of fairytale characters, there's a cow and a wolf and Harry was mooing and growling," Mr Boniface said.
"This was also a matinee which tends to attract a younger and often more vocal audience."
Mr Boniface, who lives in Drakes Broughton, Worcestershire, said he only found out his son had left when he came out from the dressing room to greet his family.
He said: "She [the complainant] took it upon herself to explain he should leave because it was distracting us [the cast].
"I would love for people to be more tolerant and more accepting and more understanding."
Chris Jaeger, chief executive of Worcester Live, which owns the Swan Theatre, told the BBC he was "devastated".
"The Swan is a totally inclusive organisation and in these changing times we are extremely disappointed that a member of the audience should take such an unenlightened view," Mr Jaeger said.