Callum Cartlidge death: Blood test 'would have saved' boy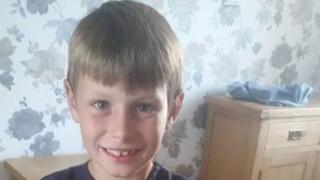 A critically-ill boy who died hours after being discharged from hospital "would have survived" if he had been given a blood test, an inquest heard.
A medical expert said the test would have identified Callum Cartlidge's rare disease.
The eight-year-old suffered a cardiac arrest at home in Redditch, Worcestershire, in March 2017.
He was discharged from Worcestershire Royal Hospital the previous day with a diagnosis of gastroenteritis.
Consultant paediatric endocrinologist professor Jeremy Kirk told a hearing at Worcestershire Coroner's Court: "If we'd had blood tests done the night before, I think - even in the absence of hyper-pigmentation - it would have made the diagnosis."
The professor, from Birmingham Children's Hospital, added: "I think, sadly, I think he would have survived."
Callum had an undiagnosed adrenal Addisonian crisis, which is linked to the rare condition Addison's Disease.
The expert said the disease was uncommon and would expect to see a case out of one child in a million.
The inquest, which is expected to conclude tomorrow, continues.