Hereford girls' football finals moved from club ground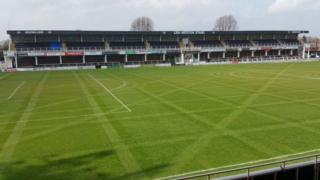 Parents of a girls football team said they are "disappointed" after finding out they will not play finals at a city club ground, while boys teams will.
Tupsley Juniors in Hereford said the county league finals are normally played at Hereford Football Club's Edgar Street ground.
But this year, the girls have been told they will play at the smaller Pegasus Juniors Football Club.
Herefordshire Girls Football League said it was due to capacity issues.
The girl's league has 36 teams, spread over five age groups, all of which will be playing at the Pegasus ground on Old School Lane on 13 May, while all the boy's age groups will play at the Southern Football League club.
The girls played at Edgar Street last year, and parents said they began the season understanding the competition would be held at the ground again.
Charlie Watkins, a parent of one of the players in the under-nine's team, said: "I am disappointed because, again, it is one rule for the boys and one rule for the girls."
Herefordshire Girls Football League said the decision was made because the club could only offer two evenings, rather than a full day, for them to hold the finals.
"We value all teams, and want the finalists to have equal recognition," it added.
"At a meeting where all clubs were present, it was agreed that if we couldn't get a full day at Edgar Street, we would in fact have a full day at Pegasus, where we have held finals previously and they've been declared a great success."
The club said it stands by the decision of the league, adding: "If any parent wishes to make comments about the venue of the finals, without knowing the full facts behind the decision, they do not have the backing of Tupsley Girls FC or that of the Herefordshire Girl's Football League."