Promotion winners Hereford FC secure 10-year ground lease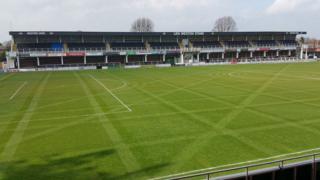 A 10-year lease has been secured to keep promotion-winners Hereford FC at Edgar Stadium.
Herefordshire Council has completed the lease keeping the Bulls at the ground until 2030.
The tenancy means the club can continue with plans to return the ground to a four-sided stadium.
Hereford FC Chairman Ken Kinnersley expressed his "sincere thanks to Herefordshire Council for their support and co-operation."
The council said a proposed 'Urban Village' project could mean a joint investment from Herefordshire Council and Hereford FC for a new stand and facilities at the Blackfriars Street side of the stadium, with the opportunity for nearby retail outlets.
Councillor Harry Bramer said: "The security of the club's tenancy until 2030 is a real boost for the club and for the fans.
"Many local traders benefit from increased trade on match days and the football club is an important employer and contributor to the local economy."
Mr Kinnersley added: "The lease extension now means we have security until the summer of 2030, which will justify continued investment in the stadium by the club and, hopefully, set at ease any concerns about security being felt by any of our supporters."