Car smashes into Worcester home as a family watches TV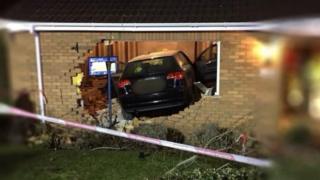 Two members of a family suffered broken bones when a car ploughed into their home as they sat watching television.
Robert Beattie, his wife Mel and 15-year-old daughter Tash were sitting in their living room when the car smashed into the house.
The woman and girl are recovering in hospital following Friday's crash.
A 26-year-old man from Worcester has been arrested on suspicion of causing serious injury by dangerous driving and released under investigation.
Mr Beattie said it was nothing short of a miracle he and his family were still alive.
"I got my wife out into the kitchen area as best I could, she was very dazed and confused," he said.
"I then had to go back outside, through the opening, to rescue my daughter from the other side of the car who was again shocked and confused and I carried her back round to the kitchen."