Herefordshire homes still cut off days after snowstorm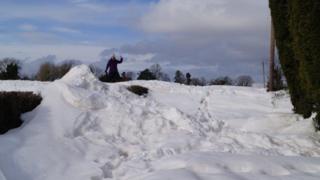 Families in some parts of Herefordshire are still snowed in and have been stuck in their homes for almost a week.
Parish councillor Janet Ivison said more than 25 homes had been cut off by 10ft (3m) snowdrifts in Stoke Lacy since Wednesday.
While a mountain rescue team took supplies to stranded family at nearby Hegdon Hill, near Pencombe.
Matt Clarke, who lives in the area, said locals were putting in a "huge effort" to dig people out.
The road between Stoke Lacy and Bredenbury has been cut off since Thursday night.
Mrs Ivison has lived in Stoke Lacy for 39 years and said it was the worst weather she had seen.
Though residents prepared for heavy snowfall, she said they did not expect to get snowed in.
Mr Clarke, who lives on Hegdon Hill, said he had been able to leave his home for the first time since Thursday.
His wife is a paediatric consultant at Hereford hospital and had to stay there until Sunday night.
The family had to walk over fields to the main road where friends took them to get supplies, and pick up Mrs Clarke, before they walked home.
At one point they ran out of water and had to melt snow in pans over the wood burner; later their boiler broke.
He added: "On Sunday, water started pouring through the ceiling, snow had got into the loft and had began to melt as the temperatures rose.
"Altogether it was a character building experience.
"The local community has been amazing though, everyone has been looking out for each other and helping each other get through this very difficult few days."
Herefordshire Council said it was continuing to clear snow around the county, focusing on those who live in rural areas and prioritising efforts to those most in need.