My online stalker: The feeling he could hurt me never went away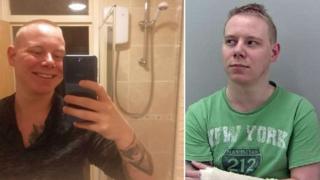 Stalker Callum Blake-O'Brien created numerous fake social media accounts to send women what prosecutors described as "unimaginably horrendous" messages. One teenager left "emotionally numb" by his unrelenting abuse says he "handpicked" his victims to cause maximum distress.
"When I read it, I felt really sick. It was talking about rape and torture.
"I took a screenshot. It was extremely long and in extremely graphic detail."
Gemma, not her real name, told the BBC how she got her first message from him one night in March 2017, when she was in her bedroom.
"I only read the first few lines; I couldn't read on and my parents read the rest of it.
"My mum said 'you should go to the police'. I was freaked out."
Gemma, who was then 17, initially wondered if the message was "some kind of joke".
She tried to find out who had sent it, but the communication was from an anonymous account that had been deactivated.
"By the time I read it, he had already created another account and starting sending other disturbing messages.
"The messages included one telling me I should not be afraid of dark alleyways because he preferred the daylight."
They then started to include personal information about Gemma's family, including her father's work. One even mentioned her eye colour.
"I wrote back 'who is this?' and asked 'why are you doing this?'"
Blake-O'Brien, from Hereford, sent more abusive messages in response.
Within days, her family had reported the messages to West Mercia Police.
Though Gemma went to the police station armed with screenshots, she was disappointed by the officer's response.
You might also be interested in:
How a global taskforce caught a 'sadistic' paedophile
Emily Maitlis fears stalker will never stop
Shannon Matthews: The unravelling of the truth
"He told me the man was not a direct threat to me and that there was no chance of finding him because a proxy server was involved."
She says he suggested deleting her Facebook account, which she was reluctant to do as she used it for her part-time job.
"I felt I was being dismissed as a young girl who was being overdramatic."
The student, from Hereford, said a second officer she saw took "a few weeks" to file a Child Exploitation and Online Protection report.
Reports are made by people or authorities worried about online abuse, or the way someone is communicating online, and should be filed immediately.
"The dismissal by the police made me feel even more isolated," says Gemma, now aged 18.
"I did deactivate my account a few times and kept blocking him but he created new accounts.
"In all, he sent me about 75 to 100 messages from five different accounts.
"I became emotionally numb to the messages but the feeling he could hurt me never went away.
"I felt like I couldn't go out and became anxious - and I've never been anxious before."
After a few weeks, the messages abruptly stopped. April and May passed without incident, but the reprieve was short-lived.
"I was on the phone to my friend when I got another message request in June. I knew exactly what it was and who it was from. I was devastated.
"It had given me a bit of false hope when it stopped between April and June and I thought he had finally got the message."
Gemma reluctantly went back to the police but this time saw a female officer and a detective who she said "took this seriously".
"I think she understood his power and how I was feeling."
The officers soon linked the case to a police report by another woman who had received similar messages.
Two weeks later Blake-O'Brien was arrested.
"When I found out he was arrested in Hereford I completely broke down. It was the thought he could have walked past me multiple times," Gemma recalls.
Her shock was further compounded when officers told her the name of the suspect - it was someone who had known her brother.
"He had handpicked all of us; either he knew us or had come into contact with us."
The Crown Prosecution Service said Blake-O'Brien targeted several women.
The 25-year-old knew some of the victims and was acquainted with others, it said.
At Worcester Crown Court, he admitted counts against 10 women and was last month given a prison sentence of two and a half years.
Seven offences were of stalking involving the fear of violence, while three involved sending an electronic communication of an indecent or grossly offensive nature.
Blake-O'Brien will spend 15 months on licence, and was also handed a 10-year restraining order banning him from contacting any of his victims.
He is further prohibited from using any device capable of accessing the internet unless it has the capacity to retain and display the history of online use.
Though relieved her stalker has been bought to justice, looking back, Gemma feels upset about how the case was handled.
She wants Facebook to introduce a helpdesk so people can easily report online abuse and believes the police, prosecution and defence counsel had a "limited understanding" of how social media worked.
"[That] shouldn't be the case as these crimes will increase in the future.
"I'm a teenage girl and I couldn't enjoy that whole year of my life."
Det Insp Ross Jones, of West Mercia Police, urged anyone dissatisfied with how they were dealt with by officers to lodge a complaint with the force.
He also praised the victims for coming forward.
"Their bravery played a vital role in achieving this custodial sentence.
"Despite this, I know that victims of such crimes can experience long-lasting effects on their mental health and wellbeing.
"All of the people who reported Blake-O'Brien's offences to us have been offered specialist counselling to help them.
"West Mercia Police works hard to ensure all officers know how to deal with reports of offences like this, and will continue to do so."