Long Lartin: Prison staff 'attacked with pool balls'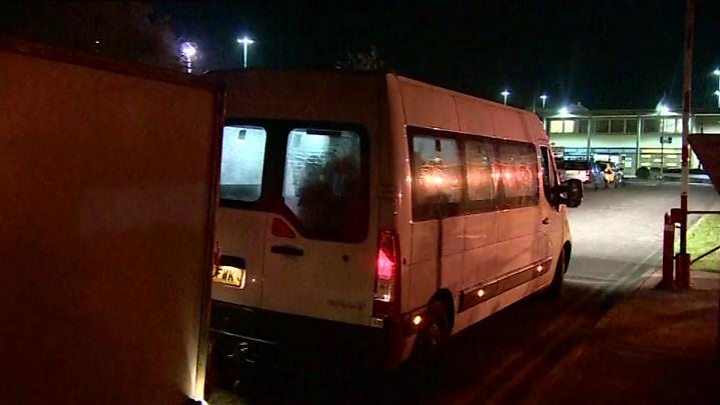 Staff were attacked with pool balls during a disturbance at a high-security prison, the BBC understands.
A total of 81 inmates at HMP Long Lartin in Worcestershire became violent, forcing staff to retreat, a source said.
By 04:30 BST the disturbance was resolved with no injuries.
BBC home affairs correspondent Danny Shaw said he understood about 10 "Tornado teams" of riot officers had been sent to the prison on Wednesday.
Eighteen prisoners have since been moved to other jails.
James Treadwell, professor of criminology at Staffordshire University, said he understood there had been violence at the prison in the lead up to the disturbance.
The disturbance at the maximum security jail should be "ringing alarm bells at the most senior level", the Prison Governors Association [PGA] said.
John Attard, national officer for the group, said the trouble was symptomatic of cutbacks and changes in the Prison Service management structure.
"Last year the PGA called for an independent public inquiry into the state of our prisons due to cuts... It fell on deaf ears. That call has not gone away," he said.
"I think we've dodged a bullet on this. They brought this under control very quickly and it's fantastic that they've dealt with it."
Separate protest
Our correspondent said staff on E wing had retreated, after inmates started throwing pool balls, but it had been secured so the troublemakers could not go elsewhere.
There were also reports of a separate protest elsewhere in the jail, our correspondent said.
The disturbance followed riots at prisons including Lewes, Bedford, Birmingham and Swaleside.
Five inmates who started a 15-hour riot that caused more than £6m damage at HMP Birmingham in December were sentenced earlier this month.
Also in December, part of a prison wing was taken over by about 60 inmates at HMP Swaleside on the Isle of Sheppey, Kent.
Long Lartin has housed a number of high-profile inmates, including radical Muslim cleric Abu Hamza and murderer Christopher Halliwell.
---
Analysis: Danny Shaw, BBC home affairs correspondent
I understand the trouble at Long Lartin prison has been brewing for several months.
A source with good connections to the prison said there was anger among prisoners over changes introduced by the new Governor, Claire Pearson, who'd previously been in charge at Belmarsh Prison.
Among the changes were tighter restrictions on the clothes prisoners were allowed to wear, tougher rules on family visits and family photographs, more rigorous security clearance procedures for visitors which meant some inmates waiting longer for visits, and more time spent by prisoners in their cells during the afternoons and evenings. In addition a smoking ban was introduced.
The source said the former legal high, Spice, was also prevalent in the jail, as it is in many others.
---
A Prison Service spokeswoman said: "Specially trained prison staff successfully resolved an incident at HMP Long Lartin on 12 October. There were no injuries to staff or prisoners.
"We do not tolerate violence in our prisons, and are clear that those responsible will be referred to the police and could spend longer behind bars."
Long Lartin is one of the highest-security prisons in England and Wales, with two-thirds of the inmates serving life sentences, BBC home affairs correspondent Daniel Sandford said.
He said the prison had suffered cuts and lost a fifth of its staff.
Four prisoners have been killed at the site - which holds up to 622 male inmates - in the last four years.
Child murderer Subhan Anwar was strangled in 2013, while killer John York was beaten to death in his cell in 2015.
In June 2016, Sidonio Eugenio Teixeira was killed using a rock wrapped in a pair of socks.
Two inmates who murdered a fellow prisoner were jailed for life last month.
An inspection report published in 2014 described a "calm, well controlled prison".
"But, while violence and bullying were few, there continued to be some very serious incidents," it added.