Worcestershire County Council has to make £60m cuts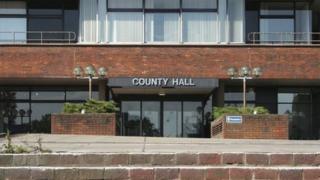 A further £60m worth of cuts need to be made to Worcestershire County Council's budget over the next three years.
It expects to have to make about £33m next year and another £27m by the end of the 2020/21 financial year.
This follows more than £100m of cuts since 2011. The number employed by the council has gone down by around 1,000.
Unison said it wanted assurances jobs would be protected over the next three years and has called the challenges "terrifying".
Conservative council leader Simon Geraghty said a root-and-branch look at how to save the cash had already started.
"We're starting planning now for the next financial year... and we will publish a draft budget for members of the public... for councillors to have a look at in December," he said.
"So this is why we do these predictions now... it helps inform where we need to set the budget for future years."
Branch secretary of Unison in Worcestershire Jim Price said there was "no slack left" at the council.
He said: "There's been cuts year on year since 2010. Staff have already taken a set of cuts [to] their terms and conditions, which they've agreed to twice to try and hold back redundancies.
"But at the same time we've seen well over a thousand jobs already leave from the county council."
Deputy leader of the opposition Labour group Robin Lunn said: "The biggest [problem] with these suggested cuts is [they have] more and more impact on those that least can deal with the issues."