Ban on drinking tap water in Tenbury Wells lifted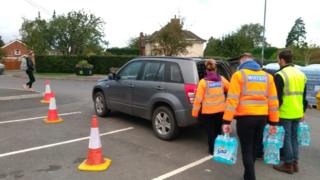 A ban on drinking tap water amid contamination fears over the supply to about 2,000 properties has been lifted.
Severn Trent announced on Friday that floodwater had got into a burst pipe in a field in Tenbury Wells, Worcestershire.
The company announced on Monday afternoon that its tap water was safe to use again.
It said it would be crediting affected customers' accounts by £25.
The all-clear followed a test of samples but Severn Trent advised customers to run the cold tap for five minutes before consuming water.
A spokesperson said with reference to hot water tanks "this may have stored poor quality water, so you will need to run your hot water taps for five minutes too".
The "do not drink" notice was issued on Friday to affected postcodes WR15 8 and SY8 4AU.
Severn Trent had said water could be used for bathing, showering and flushing the toilet, but not for drinking, preparing food and brushing teeth.
Amid the ban, Tenbury Primary School said on its website it would be closed on Monday.
About 160,000 litres of bottled water were available to residents from the car parks of Tenbury Community Hospital and Tenbury Swimming Pool.
Prior to the ban being lifted, anyone who drank tap water and felt ill had been advised to contact their GP.