Tap water ban in Tenbury Wells continues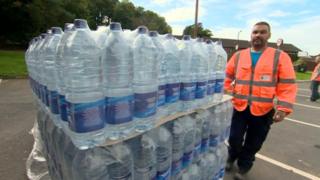 Homes and businesses in Worcestershire face a second day of not being able to drink their tap water due to contamination fears.
Up to 2,000 properties have been affected after a small amount of floodwater got into a burst pipe in a field in Tenbury Wells on Friday night.
Severn Trent said residents must not use the water for drinking, cooking or cleaning teeth.
Free bottled water is being given out at two sites.
The pipe has been disinfected and fully repaired and test samples of the water are being carried out, Severn Trent said.
Once the results are known and the water is safe, the public will be immediately updated.
Sarah-Jane O'Kane, from the supplier, has apologised to people for the inconvenience and said the ban was a precautionary measure.
The postcode areas affected are WR15 8 and SY8 4AU.
Up to 90,000 litres of bottled water are ready to be distributed on Sunday and can be collected from the car parks of Tenbury Community Hospital and Tenbury Swimming Pool.
If anyone has drunk the tap water and feels unwell they are advised to contact their GP.