Velo Birmingham cycle route targeted with nails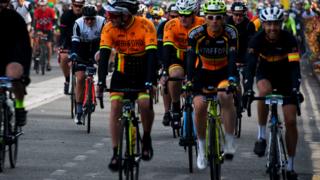 Organisers of a controversial cycle race said riders' health was put at risk after nails and other sharp metal objects were thrown on to the route.
The Velo Birmingham event took place on Sunday, with cyclists of all abilities riding from the city through Staffordshire and Worcestershire.
Some residents had criticised the event for being "poorly planned".
However organisers CMS Active said targeting cyclists was "pretty appalling".
John Ridgeon, from CMS Active, said the metal objects had been found on the Worcestershire section of the route, which saw 15,000 cyclists pass through towns like Bewdley and Stourport-on-Severn.
"I understand this [event] is not everyone's cup of tea but when people start to take action that impacts the health and wellbeing of our riders, they lose their moral high-ground and it's pretty appalling," Mr Ridgeon said.
'Deplorable' act
The 100-mile (161km) race saw roads closed for much of the day, with some residents complaining they were trapped in their own homes.
About £2m is believed to have been raised for charities by the event.
Andrew Jones, an airline pilot, helped lead a campaign to stop the event from coming to Herefordshire.
He said: "This is a private company telling you you are going to be trapped in your own home and there is nothing you can do about it.
"I can understand that gets people's backs up but throwing tacks on the route is deplorable. It's not the participants' fault the race is poorly planned."