Two people killed in crash near Stourport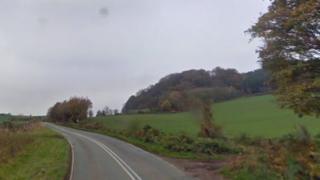 Two people have died after a crash involving two cars in Worcestershire.
A man in his 30s, who was driving one of the cars involved, was pronounced dead at the scene, police said.
A passenger in the same car, a woman in her 40s, was airlifted to hospital with serious head injuries after Friday's crash near Stourport. She died the following day.
A woman in her 80s, who was driving the other car involved in the crash on the A451, was seriously hurt.
For more from Herefordshire and Worcestershire
She suffered serious leg and wrist injuries and remains in hospital in a stable condition.
West Mercia Police urged anyone who witnessed the collision to contact the force on 101.