JCB driven at shop in Kempsey cash machine raid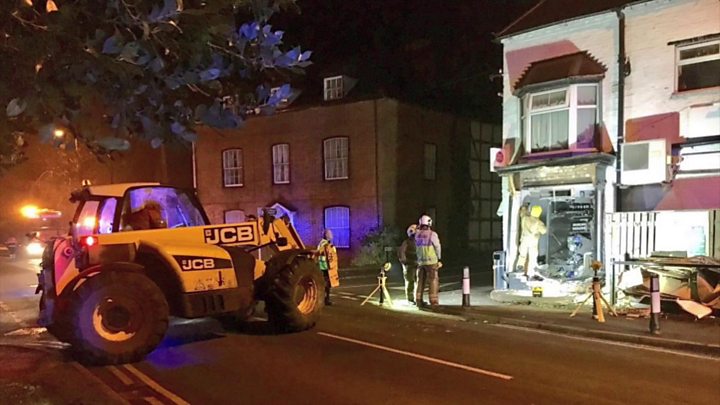 A stolen digger was driven into a corner shop by thieves who fled with its cash machine.
The JCB destroyed the site of the McColl's in Kempsey, Worcestershire, at around 02:30 GMT on Thursday.
A pick-up truck, with the cash machine on the back, was later found abandoned in a nearby field after it was spotted driving through a gate.
Police are now looking for a third vehicle believed to be involved. The JCB was left at the scene.
Read more stories from Herefordshire and Worcestershire here
Sgt Rich Thomas said: "On arrival the JCB was still in the road, so that has been seized and we are hopeful, as a result of some forensic examination, that might identify a suspect."
It is believed the digger was stolen from a nearby yard. The cash machine was found in a Toyota Hilux Invincible.
Police would not reveal if money had been taken from the machine.
A note on the shop advised it would be closed until "further notice" and apologised to customers for "any inconvenience".
One customer said many of the older residents would be affected by the closure.
"It's dreadful," he said. "It's just unbelievable what they've done. It affects everybody until they can reopen the shop.
"You'd think somebody would have been alerted to it straight away, the amount of noise they must have made."