New Year Honours for Rio gold medallists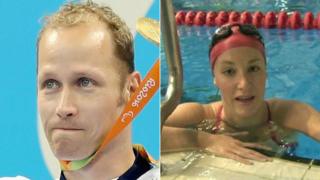 Rio Paralympics gold medallist swimmers Sascha Kindred and Claire Cashmore have been recognised in the Queen's New Year Honours list.
Kindred, from Herefordshire, becomes a CBE, and Cashmore, from Redditch, Worcestershire, has been appointed MBE, both for services to swimming.
Another Rio Paralympics gold medallist, Lauren Rowles, from Bromsgrove, becomes an MBE for services to rowing.
Kindred, who has seven Paralympic golds, said he was "just thrilled".
He said: "I had such a successful year with the Paralympics and then being awarded the freeman of Herefordshire... it's another award that I'm very honoured to receive."
Cashmore said she was "completely surprised".
She said: "I hope to think that it's for the things you do outside of the sport as well, so outside of the tournaments, the winning the medals, the going out and inspiring kids with a disability.
"Sport is such a powerful thing and it can be really used as a vehicle to change people's mindsets and their beliefs and confidence in themselves."
Those recognised include Carers UK chief executive Helena Rebecca Herklots, of Hay-on-Wye, Herefordshire, who has been made a CBE for services to carers, and Glyn Ian Morgan, from Herefordshire, who becomes an MBE for services to Hereford Cathedral and the community.