Hunt saboteur attack claim investigated by police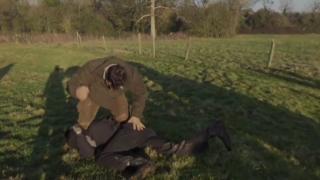 Hunt saboteurs allege that one of their protestors was attacked by a member of Herefordshire's Ledbury Hunt.
Edited footage that has been shared on social media appears to show a man attacking another man, said to be from Bristol Hunt Saboteurs.
The altercation is said to have happened in Castlemorton, Worcestershire, on Wednesday afternoon.
Ledbury Hunt said the apparent attacker was not part of its organisation. Police are investigating.
West Mercia Police said it was "aware" of the footage, but no arrests had been made.
Bristol Hunt Saboteurs said the attack happened after hounds from the hunt had chased a fox into a badger sett.
They say they intervened to save the fox and were attacked by a hunt employee.
For more on other Hereford and Worcester stories click here.
West Mercia Police says it has had no direct complaint from Bristol Hunt Saboteurs. The force says it only became aware of the footage when members of the public contacted it.
Ledbury Hunt says it is carrying out an "internal investigation" into what happened. It said a person seen throwing a punch in the film was not connected with it in any way, and it was the Hunt itself which alerted police to the incident.
The BBC has approached Bristol Hunt Saboteurs for a comment.