Children's centres in Worcestershire to close amid cuts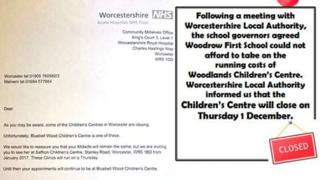 Some of Worcestershire's children's centres are closing, despite reassurances from the county council.
Funding cuts of £1.5m have been imposed on 32 children's centres, with schools asked to take over the running of about half of them.
But centres in Worcester, Redditch and Evesham will shut, the BBC has found.
The council says it will find ways of keeping all the centres open in the long term, but admits there may be some temporary closures.
Latest reaction, plus more from Herefordshire and Worcestershire
A letter from the NHS has told parents Bluebell Wood children's centre, in Worcester, will shut.
And a letter from Woodrow Primary School, in Redditch, says the children's centre there will close because the school cannot afford to run it.
At least one other centre - Lavender, in Worcester - is temporarily closing because its school is not yet ready to take over.
Councillor Marc Bayliss, cabinet member for children and families at Worcestershire County Council, said: "We have 32 children's centres in the county and we will continue to have 32 children's centres in Worcestershire."
He said 70% of the centres where changes were being made had formally moved into their new arrangements and the use of these buildings "will continue to evolve".