People power transforms 'civic pigsty' Castle Vale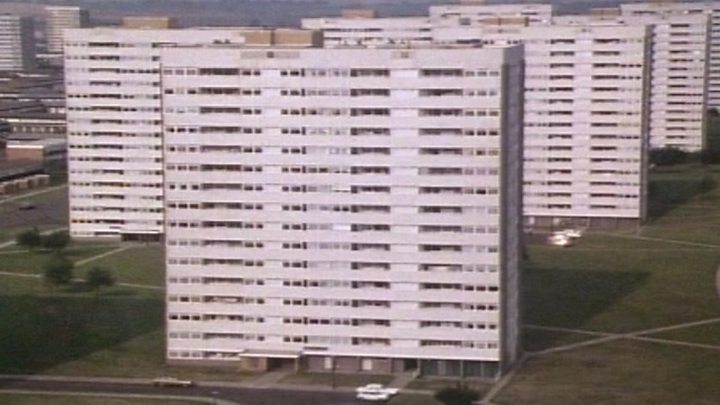 It was once one of Britain's most notorious estates, described as a "civic pigsty" by a former MP.
Now the Castle Vale estate in Birmingham is pioneering a new way of running services that councils can no longer afford.
Local residents groups have taken over the swimming pool and the library which were in danger of being closed.
They are now being asked to show other local communities how they can rescue council services threatened by cuts.
See more stories from Birmingham and the Black Country
During the 1970s and 1980s, the post-war estate, dominated by tower blocks, became notorious for its social conditions, crime and poverty.
In 1998, former Erdington MP Robin Corbett, said: "Anyone wanting to see a hell-hole should have seen Castle Vale 12 or 15 years ago. It embodied what I felt merited the description "civic pigsty"."
It underwent a 12-year regeneration in the 1990s, with 32 of the 34 tower blocks demolished, new homes built and a new retail area created.
However, in the face of cuts, in 2014 the residents pulled together to save their library from closure.
"People came together"
Ray Goodwin, chief executive of the tenants and residents alliance, said: "People came together and said this is taking away our community and we are not prepared to accept that."
Residents also took over the swimming pool 18 months ago. The library employs one member of staff and about 40 volunteers look after the library and pool.
Volunteer Amanda Cutler was behind a 6,500-signature to save it.
She said: "One of the lifeguards came to me one day and said it was closing down. I said it's not happening and I got a petition together myself. Luckily, we've done it, so we're really pleased."
Mr Goodwin added: "People are saying to us, 'what are you doing so well that we can learn from?', and for me that's really really important."
A cinema and theatre for the community are also planned.