Droitwich canal narrowboat death was accident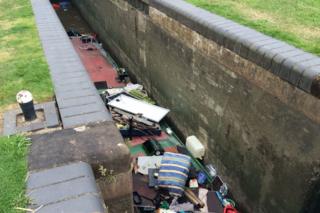 A man whose narrowboat sank died as the result of an accident, a coroner has ruled.
Alan Green, 49, drowned after saving his mother and dog on the Droitwich canal on 25 July.
He was navigating through a lock when the rudder became trapped in the gates and prevented the barge rising as the lock filled with water, an inquest at Worcestershire Coroner's Court heard.
Mr Green went back into the cabin to collect some personal possessions.
Speaking in July, following the death, friends told the BBC that after helping his mother and dog to safety, he got back inside the boat to salvage items but could not get out as it filled with water.
Paramedics battled for 40 minutes to resuscitate Mr Green but he died at the scene, West Midlands Ambulance Service said.
Following the inquest, Tony Stammers, head of health and safety at the Canal and River Trust, said: "Mr Green's death is tragic and our thoughts remain with his family and friends.
"We carried out a full investigation at the time to establish whether the condition of the lock could have meant the events of July were avoided. As reflected in the coroner's judgement, there were no structural issues with the lock that contributed to the chain of events that occurred.
"Incidents like this are very rare on the nation's canals. We'll continue to work with boaters, experts and local communities to ensure the waterways can remain safe and enjoyable places for people to visit."