Image of collapsed Tenbury Wells bridge replacement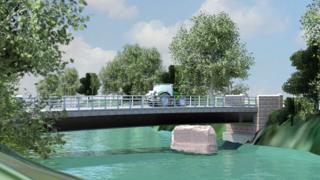 An artist's impression has been released of the replacement for a Grade II listed bridge that collapsed in May.
Eastham Bridge in Tenbury Wells, Worcestershire, gave way in front of a school bus with 11 children on board.
Worcestershire County Council has said a temporary bridge would not be erected. People have been forced to use a 10-mile detour to cross the River Teme.
The council said it was anticipated the new bridge would open by April.
The 18th Century original collapsed after fast-moving water undermined its piers.
The bus driver managed to reverse off the bridge as its apex crashed into the river below.
Marcus Hart, the cabinet member with responsibility for highways at the council, said: "Over the next few months we will be bringing large pieces of equipment on to the site and we ask local people for their continued patience while the work is being done."