Valentino Rossi dog rescued from Redditch badgers' sett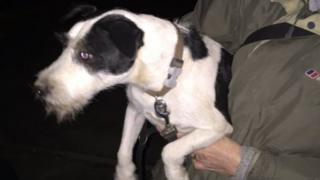 A dog named after the motorcycle racer Valentino Rossi had his own thrilling experience when he got stuck in a badgers' sett.
Rossi, a Parsons Russell Terrier, became trapped while walking with his owner in woodland.
Firefighters were called to Nine Days Lane in Redditch on Sunday evening.
They used a special camera on a wire to find Rossi and lure him out of the hole using treats. He was uninjured when he was freed after two-and-a-half hours.
Firefighter Robert Sproat said: "It took a lot longer than expected because of the location and the lack of light but it was a good result.
"He obviously had a few daredevil stunts of his own to pull."
You can read more stories about lucky escapes for stuck animals on our Pinterest board.