Trust takes over Snodhill Castle in Herefordshire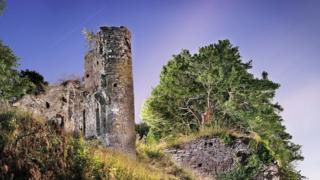 The future of a 12th Century castle in Herefordshire has been secured after a preservation trust took over the site.
Built during the Norman Conquest, Snodhill Castle, near Peterchurch, played a role in both the Wars of the Roses and the English Civil War.
The castle has been a ruin for centuries, and was placed on Historic England's "Heritage at Risk" register.
The Snodhill Castle Preservation Trust will now work with Historic England on carrying out renovations.
Surrey Garland, a member of the trust, which was formed earlier this year, said they would work to stabilise the remaining buildings over the next 10 years, with a view to opening the site to archaeologists and historians so they can investigate its "fascinating but untold story".
"We don't really want to be responsible for this ruin turning into a wreck through neglect, so the first thing is to stabilise it [to] stop it falling down," he said.