Funeral for Chris Fensome who died on her honeymoon 'after eating fish'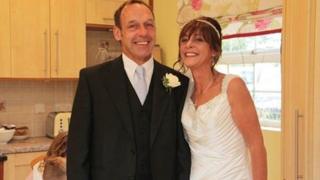 The funeral has been held of a bride who died from a heart attack on her honeymoon after "a possible reaction to eating fish".
Chris Fensome, of Herefordshire, died last month after dining in a Mexican restaurant, brother James Bowyer said.
But he said the family may never really know how she died as her body was embalmed ahead of repatriation so there was no post-mortem examination.
The funeral was held at St Paul's Church, Tupsley, Hereford.
Mr Bowyer said his 54-year-old sister, from Burghill, ate the grouper fish a week into the honeymoon in Cancun and after returning to the hotel room, she started vomiting and began to "feel itchy all over".
More updates on this story and other in Hereford and Worcester
He said her husband Andy woke up to her coughing and choking and called for the hotel doctor and she was taken to hospital.
He said the type of fish she ate carries ciguatera toxins - which are sometimes found in reef fish and can cause food poisoning symptoms - which may have contributed to her death.
But for Mrs Fensome's body to be repatriated to the UK, she had to be embalmed using fluids which are carcinogenic in Mexico, Mr Bowyer said.
He said the cause of death was a myocardial infarction (heart attack) and because it was not criminal, a post-mortem examination was not compulsory.
Mr Bowyer said he doubts the family will ever know what led to her death and "have to accept the facts on the table".
"If you look at the build up to it, the timeline, the fish that she had, the grouper fish, the ciguatera toxin that the fish has, if you piece it together, it sort of fits, but we'll never know," he said.
"We'll never really know if the toxins from the fish triggered such an allergic reaction that triggered heart failure, nervous problems, respiratory failure."