Paralympian Sascha Kindred a freeman of Herefordshire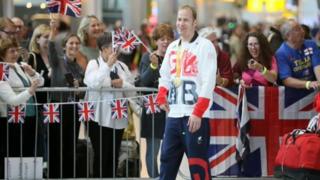 Paralympic champion Sascha Kindred has become the first individual to be made an honorary freeman of Herefordshire.
The swimmer has won 62 medals throughout his career, a haul that includes seven Paralympic golds and 11 top medals at the World Championships.
He made his last appearance at a Paralympic Games in Rio de Janeiro, in September.
Germany-born Kindred, 38, who lives in the county, said he was "very pleased" to receive the honour.
More on this and other stories from Hereford and Worcester
"Everyone has always been supportive of my journey and I would like to thank everyone in Herefordshire," he said.
Brian Wilcox, chairman of Herefordshire Council, said the award acknowledged the "outstanding contribution" Kindred had made in his career.