Work to start on collapsed Tenbury Wells bridge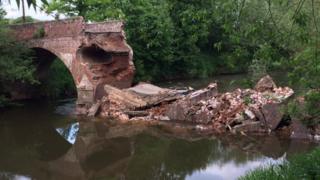 Work is set to start on replacing a Grade II listed bridge that collapsed in front of a school bus with 11 children on board.
Eastham Bridge in Tenbury Wells, Worcestershire, gave way in May.
Worcestershire County Council said a temporary bridge will not now be erected and work on a "contemporary" new bridge will begin next month with be completion due by April.
People have been forced to use a 10-mile detour to cross the River Teme.
More updates on this and other stories in Hereford and Worcester
Councillor Marcus Hart said as the area is a designated Site of Special Scientific Interest an environmental impact assessment would be needed before a temporary structure could be built which would take months.
"We recognise the significance this bridge has on the lives and livelihoods of people in the area, which is why we have made every effort to come up with the best, long-term solution as quickly as possible," he said.
"The new bridge cannot be a like-for-like replacement for the old, listed bridge, but it will include some of the original elements of the old bridge and most importantly will get people moving across the river as quickly as possible."
The 18th Century original collapsed after fast-moving water undermined its piers.
The bus driver managed to reverse off the bridge as its apex crashed into the river below.