New bells blessed at St Peter's church in Bromyard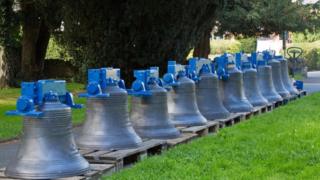 A special church blessing has been held to mark the return of its upgraded bells.
St Peter's Church in Bromyard, Herefordshire, has spent tens of thousands of pounds on two new bells and revamping eight existing ones.
They will be reinstalled in the church's tower early next week.
It now wants to set up a "centre of excellence" to teach the art of bell-ringing and has installed two dumb bells for training.
Prof David Parker, who has led the restoration project, said the blessing was "symbolic of the bells returning home."
St Peter's has been silent over the summer while the renovation project has taken place.
During the blessing earlier, the bells were baptised with water and anointed with oil.
It is hoped the new free bell-ringing classes can start in the next few weeks.
Prof Parker said: "There is a lot of interest in bell ringing these days and we are always encouraging people to take it up.
"It's something you can do at almost any age - we have people who are teenagers right up to the age of 90.
"It's quite a precise thing. When you're handling something that weighs half a tonne hanging above your head - it's hard to get it right."