Animal cruelty arrests in South Herefordshire Hunt investigation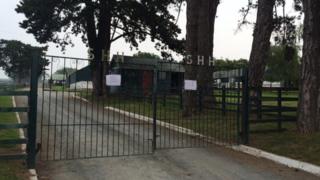 Two people have been arrested on suspicion of animal cruelty in connection with an investigation into the South Herefordshire Hunt.
West Mercia Police questioned a 37-year-old man and a woman, aged 27, about suspected cruelty to foxes.
The hunt's kennels in Wormelow, near Hereford, have been closed and all horses and hounds moved elsewhere.
A message on the hunt's Facebook page says salaried staff have been suspended and an internal inquiry will begin.
Latest updates on hunt arrests
The gates at the kennels are shut and nobody was on site earlier. West Mercia Police says the investigation is continuing.
The man and the woman have since been released on bail.
The RSPCA said it is helping the police with its investigation.