Husband of Malvern boarding school headmistress sentenced for harassing woman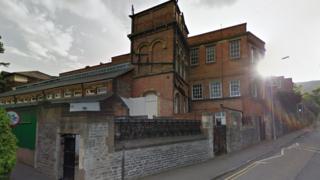 The husband of the headmistress of a prestigious girls' boarding school has been sentenced to community work for harassing a married woman.
Stephen Woodhouse, 65, tried to kiss the woman, touched her leg and grabbed her arms, Worcester Crown Court heard.
Woodhouse, whose wife Patricia is head of Malvern St James Girls' School, admitted one count of harassment.
His not guilty pleas to a count of sexual assault and four other alleged offences were accepted by the Crown.
More updates on this and other stories in Herefordshire and Worcestershire
After the allegations were made in the summer of 2014, Woodhouse was barred from entering the school grounds without "prior arrangement".
The victim, who cannot be identified for legal reasons, alleged she was touched by Woodhouse during four incidents at a property in the Malvern area and another location on the same day in 2014.
A previous hearing was told he later contacted the woman to apologise, saying he had had too much to drink and was sorry if he had caused offence.
Judge Nicolas Cartwright told Woodhouse he could be allocated community work in a charity shop because of a long-standing back complaint.
"A restraining order is not necessary or appropriate in this case. I am quite satisfied that there is no identifiable risk that you will repeat this behaviour on a future occasion," he said.
Last July, Malvern St James wrote to parents to reassure them no pupil "has been or is at any risk".
In a statement on Thursday, the school said governors took immediate action when the allegations came to light and that Woodhouse had not been on school premises since without prior agreement.
Woodhouse, who lives abroad but previously gave his address as Barnard's Green Road, Malvern, was ordered to complete 65 hours of unpaid community work and pay £1,400 in prosecution costs.
Mrs Woodhouse is due to leave the school this summer to take up a post overseas.