Planners back city's £27m link road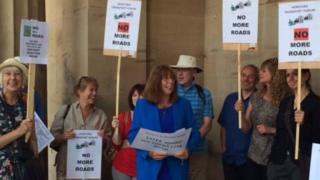 Plans for a £27m link road to south Hereford have been approved.
The Southern Link Road will join the A49 with the A465, south west of the city, through Grafton and Grafton Wood.
Nearly 2,000 people objected to the proposals, raising concerns the road would destroy ancient woodland and would not reduce traffic in the city.
But Herefordshire Council said the link road was the first phase of a bypass which would help deliver new homes and jobs.
The Conservative-run council said traffic was "near capacity" in the area. The scheme was backed by councillors in November 2014 but still needed separate planning permission.
Philip Price, cabinet member for infrastructure, said it was "good news" for Hereford and its businesses.
"Today's decision is a significant move forward as it is the first step towards a long-awaited bypass. Hereford can now move towards a more financially sustainable future, with the provision of more homes and jobs," he said.
Mr Price said the council had secured £27m government funding for the road, which was expected to be completed by the summer of 2019.
The council hopes to compete the bypass between 2022 and 2027, subject to funding.
Planners said about 1,250 of the letters of objection were generated by a Woodland Trust campaign. Some 240 people also signed a petition.
Concerns included fears open countryside would be destroyed and the new road would lead to more air and noise pollution.