Bonfire burn councillor 'grateful to be alive'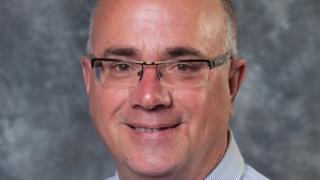 A councillor who suffered burns to 70% of his body in a bonfire accident has said he is grateful to be alive.
Tom Wells, who represents Powick in Worcestershire, said he had done a "very silly thing" by using petrol to boost the fire at his home last month.
"On this occasion I was found wanting, the decision was a bad one and I've paid a heavy price," he said.
Mr Wells said his wife Cath, who was told by medics he had only a 50% chance of survival, was his "absolute rock".
"She has been with me every step of the way," he said.
"I think it has been more difficult for Cath actually because while I was in an induced coma, oblivious to what was going on around me, she had been informed that I had a 50% chance of living and that must have been devastating news."
Mr Wells said he "turned [his] face away" from the blaze and mainly suffered burns to his arms, legs and back, including areas burned "right down to the bone".
The Liberal Democrat was airlifted to Birmingham's Queen Elizabeth Hospital after the accident at his home in Callow End, Worcester, on 8 April and spent several weeks there undergoing skin grafts.
"The plastic surgeons have done a marvellous job," he said.
Mr Wells is now taking regular medication to help deal with the pain and has been told a full recovery could take a year to 18 months.
The councillor, who had been expected to spend two months in hospital, said: "I was actually out of the QE a month ahead of schedule and hopefully that gives us encouragement that it might not even take a year."