David Langdon death: Cleared women win payout from police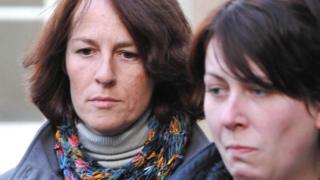 Two women acquitted over the death of a man found on a bonfire have received a payout after suing police for malicious prosecution.
Kirsti Windsor was cleared of murdering her ex-boyfriend David Langdon in 2011. She and Katie Brown were also acquitted of perverting the course of justice.
The pair sued West Mercia Police after their wrongful arrests.
The force said a compromise settlement had been agreed ahead of a hearing at Birmingham County Court in April.
More updates in Hereford and Worcester.
Their solicitor Nick Turner said Ms Windsor received £80,000 and Ms Brown £30,000. He said their acquittal brought "no relief or satisfaction".
"Both have been traumatised by their experience. It's had a major impact on them both emotionally and physically," he added.
The remains of Mr Langdon, 40, were found in August 2008 at the cottage he shared with Ms Windsor in Wormelow, Herefordshire.
The prosecution said Ms Windsor had drunk wine with her friend, Ms Brown, as his body lay smouldering on the fire.
Ms Windsor told the jury she and Mr Langdon had split up and she assumed the fire was garden rubbish he had promised to sort out before he left.
'Compromise reached'
The defence argued Mr Langdon had either fallen on the fire accidentally or taken his own life.
Ms Brown, 31, of Alcop, Herefordshire, was charged with perverting the course of justice by attempting to dispose of the body.
Both were found not guilty by the jury after three hours of deliberation.
A spokesperson for the force said: "West Mercia Police confirm that a compromise settlement was reached in this matter, and we are pleased that it has now been resolved.
"We treat every claim against the police seriously and investigate and review all claims thoroughly before making a decision on how to proceed."