Sheep trailer ends up on top of car at Callow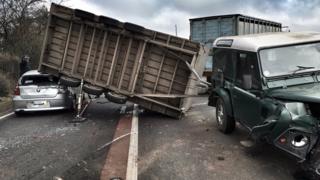 A trailer carrying about 30 sheep ended up on top of a car following a crash.
A number of sheep were put down after the collision on the A49 at Callow, Herefordshire, at about 09:20 GMT.
The trailer ended up on top of a BMW. A 41-year-old woman and two children were shaken but unhurt.
The driver of a Honda Civic fractured his leg and was taken to hospital. His two passengers, including a three-year-old boy, were taken to hospital as a precaution.
A man driving a Land Rover Defender, which had been pulling the trailer, was uninjured.