Cargill chicken plant in Hereford 230 jobs at risk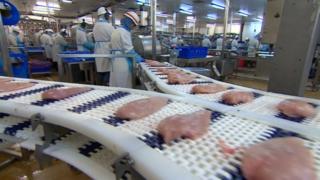 A chicken processing plant has announced 230 jobs are at risk after losing a contract with Asda.
Cargill will stop making the supermarket's breaded and battered products in Hereford on 1 June.
The company is consulting with employees and unions over the change which affects the Yazor Road factory.
"Cargill does have opportunities across its sites and every effort will be made to redeploy employees," a company statement said.
The proposal does not affect workers at its plant in Grandstand Road, Hereford or those in Wolverhampton and Newent, Gloucestershire, it said.
Mary Thompson, managing director of Cargill Meats Europe, said: "This is not an easy announcement to make, every effort will be made to minimise the impact of this on our employees, they are our first priority here."
The company said it will focus on its fresh chicken business, in which it has invested £35m over several years.