Race to fix Herefordshire church bells ready for St George's Day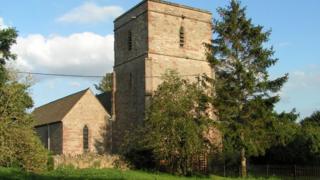 A Herefordshire parish is facing a race against time to restore the bells of its Norman church tower in time for St George's Day.
The bells, which date back to the 14th Century, were removed from St George's in Woolhope in January after cracks were discovered in them.
The aim was to get them restored by 23 April - St George's Day.
So far, £30,000 has been raised but the cost is likely to be much more, the church said.
Bell ringer Barbara Fox said "it's such an English pastime, that locals enjoy regardless of whether they are churchgoers".
"We've been overwhelmed by generosity of locals - donations, sponsorship, fundraising," she said.
The cracks in the bells were discovered in time because left any longer, one of the bells could have fallen, which would have caused much worse damage, she said.
"We've probably got to raise another £5,000, but its difficult to know what the end figure is going to be...how long is a piece of string?", she said.