Kidderminster Hospital GP unit could close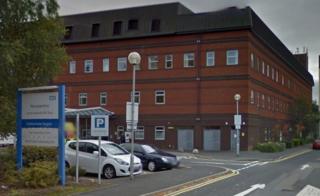 The GP unit at Kidderminster Hospital could close under plans to care for more people at home.
The Wyre Forest Community Unit provides intermediate care and rehabilitation services - often for elderly patients who are not ready to return home.
The 20-bed unit does not offer a "high quality patient environment", according to NHS bosses.
But Conservative MP for Wyre Forest Mark Garnier said he had reservations about the move.
"No decisions have yet been made," said NHS Wyre Forest Clinical Commissioning Group.
Doctors are being asked to look at alternative ways of providing the same service - possibly through treating more patients at home.
They must also consider how the funding for the unit could be used elsewhere, said Worcestershire Acute Hospitals NHS Trust (WAHT) and NHS Wyre Forest CCG.
"This fits with the national policy move away from inpatient bedded units and towards more care provided in the community and in patients's homes," said a statement from both organisations.
Chris Tidman, chief executive of WAHT, said: "If a service change is agreed the trust would anticipate that there will be no job losses associated with this decision and the staff currently employed on the unit will be redeployed into alternative positions."
But Mr Garnier said: "What people in Wyre Forest and across the whole of Worcestershire see is a local NHS provision moving in a direction they are very, very uncomfortable with."