'Finest' dive bomber Arthur Gill dies, aged 100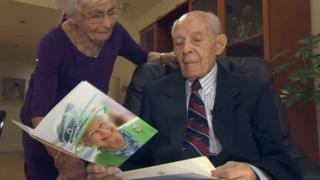 A World War Two veteran, described by historians as Britain's finest dive bomber pilot, has died days after celebrating his 100th birthday.
Wing Commander Arthur Gill, a great-grandfather from Herefordshire, had flown 140 different types of aircraft.
He marked his centenary on 24 February with a special lunch with his 92-year-old wife and family.
Mr Gill, who died last week, had said his family was his finest achievement in a "charmed life".
For more Herefordshire and Worcestershire news
During his career as a pilot, Mr Gill, from Little Dewchurch, survived 17 crash and forced landings and had been George Formby's pilot double in the 1938 film It's in the Air.