Fluffy the cat killed by Ross Harriers Hunt dogs in Kilpeck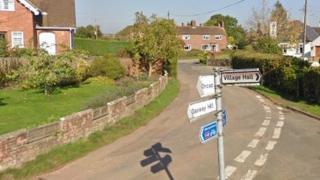 A pack of hunt hounds killed a cat in front of its owner after straying into her garden.
Janet Clarke, 80, said she saw four dogs tossing five-year-old Fluffy in the air in a tug of war behind her Herefordshire cottage.
The cat died in her porch.
Ross Harriers Hunt apologised, adding the hounds got through a hole in the hedge and it was "very unusual" for them to leave their trail.
More on this story and updates from Hereford & Worcester
The incident happened on Saturday in Marlas, near Kilpeck, after the hunt laid a scent trail through nearby woods.
'No hope'
Ms Clarke said: "I was at my back door and saw the cat being tossed in the air with about four hounds around it, pulling on it in sort of a tug of war.
"I was shouting and raving in a panic to try to save the cat but, after I looked at it, it was obvious there was no hope."
Anna Ernsting, joint master at Ross Harriers Hunt, said: "Unfortunately a small number of the hounds strayed into the Clarke's garden through a hole in the hedge and their cat died.
"It is very unusual for our hounds to leave the trail laid for them. We are very sorry that it happened and for the distress this caused the family.
"I apologised to Mr and Mrs Clarke at the time of the incident and visited again on Sunday to pass on our sincere apologies."