Atlantic rower Nigel Rogoff was 'too dizzy to stand'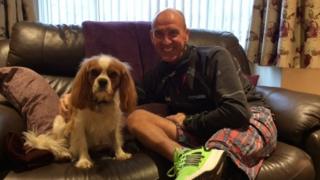 One of four ex-servicemen to become the first amputees to row across the Atlantic says he was too dizzy to stand for about a week after the challenge.
He spent 47 days crossing the ocean with Lee Spencer, Paddy Gallagher and Cayle Royce, finishing fifth out of 26 crews earlier this month.
The team were praised by Prince Harry when they reached land in Antigua.
Mr Rogoff, from Hereford, said land-sickness kept him in a wheelchair for days and he has not fully recovered.
The group, who set off from the Canary Islands on 20 December, were also struck by severe sea-sickness during The Talisker Challenge - described as "the world's toughest row".
More updates on this and other stories
Rowers
Cayle Royce - 29, from Dartmouth. Suffered serious injuries serving in Afghanistan

Paddy Gallagher - 30, from Cambridgeshire. He was injured in Afghanistan while serving with the Irish Guards

Nigel Rogoff - 56, from Hereford, who lost his leg while taking part in an RAF parachuting display

Lee Spencer - 46, from Yelverton in Devon. He lost a leg when he was struck by debris when he stopped to rescue a seriously injured motorist on the M3
PA
They faced major sleep deprivation, rowing for two hours on and two hours off, twenty four hours a day before reaching land on 4 February.
Mr Rogoff said he had a cocktail and a hamburger on arrival in Antigua, before bumping into The Who guitarist Pete Townsend who congratulated them on their achievement.
But the after-effect of rowing for such a long time on huge waves has taken it toll, he told BBC News.
Speaking from his home in Hereford, he said: "I'm still pretty dizzy and it's 12 to 13 days past the row.
"The first week I could not stand up, I was back in a wheelchair. My prosthetic limb doesn't fit me now anyway because of the weight loss.
"I'm still pretty dizzy... but I've been to see a doctor and they said it will pass."
Mr Rogoff's father passed away while he was completing the challenge, something he did not know about until he finished the race.
"He would have been proud, not just of myself but the whole project.
"I was just one man in that boat... the whole project was about life after trauma and what people can do moving forward with major disabilities. We pulled it off."