Worcestershire hospital births switch 'to remain for foreseeable future'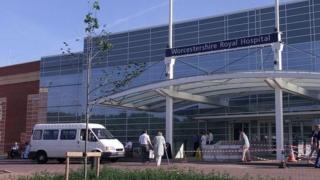 Emergency changes to maternity, gynaecology and neonatal services will remain "for the foreseeable future", Worcestershire health bosses have said.
Worcestershire Acute Hospitals NHS Trust said staffing had "not improved sufficiently" to restore services.
It could not staff neonatal and emergency gynaecology "on a sustainable 24/7 basis" at both the Alexandra and Worcestershire Royal.
Campaigners have argued the trust was "not sustainable" and "never has been".
The trust said that despite "extensive recruitment campaigns," it had been unable to recruit enough staff.
More updates on this and other stories in Hereford Worcester
As a result, NHS England, the NHS Trust Development Authority and the county's three clinical commissioning groups had all agreed staffing levels meant the temporary emergency changes "could not be be reversed", it added.
Maternity and neonatal services at the Alexandra Hospital in Redditch were temporarily closed in November, prompting protests from members of the Save The Alex campaign.
'Not coming back'
Emergency gynaecology services were centralised at Worcestershire Royal Hospital in Worcester in August.
The trust said the hospital "has absorbed the additional births and no mothers or babies have had to be transferred out of county due to lack of capacity".
Antenatal and post-natal services continue to be provided at the Alexandra Hospital, the trust said.
It runs the two hospitals and Kidderminster Hospital and Treatment Centre.
But Neal Stote, from Save the Alex campaign, said the news was disappointing but not unexpected and he believes that the service will never return.
"It's not coming back," he said.
"It's time they needed to be honest and said it's permanent, pending consultation... the equipment has gone, some staff have left."