Hereford Cathedral to replace cross missing for centuries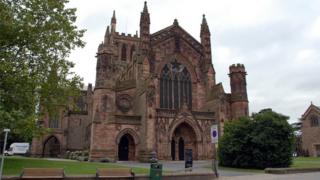 Hereford Cathedral is finally replacing a missing cross - centuries after it vanished.
The Tudor Booth Porch of the cathedral is believed to have been missing its cross since 1518, shortly after it was put in place.
The new 4ft (1.22m) stone cross will complete nine months of restoration work on the cathedral's roof.
The Very Reverend Michael Tavinor, Dean of Hereford Cathedral, said it would be "a wonderful addition" to the site.
"This is truly a once in a lifetime opportunity to be able to contribute to putting a cross back on a cathedral," he said.
Apprentice stonemason Alec Curtis, who has been working on creating the new cross, said he was proud to be a part of the project.
"I don't think it's hit me yet that I've actually done it," he said.
"I feel very privileged to have been given the opportunity to carve such an important monument for the cathedral."
While a new cross will go some way to replacing the long-lost original, which Dean Tavinor described as "a modern-day mystery".
"Although we can tell from the physical evidence that there was a cross when the porch was built, there is nothing known about it or anything in our archives," he said.
"This would suggest that it was removed very soon after the porch was built in 1518 - it possibly was removed within a few years at the time of the Reformation.