Pershore's 'trip hazard' trees set for chop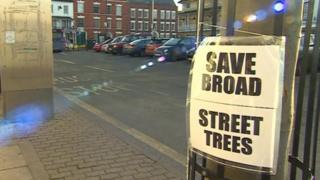 "Hazardous" trees said to be crucial to a town's historical character will be chopped down amid ongoing injury claims from tripped-up pedestrians.
The London planes were planted in Broad Street, Pershore, in 2002 to recreate the street scene of 100 years ago, but the roots began to raise paving.
The trees - 18 in all - stand in a Conservation Area.
But planners have decided their aesthetic value was not enough to override health and safety fears.
Worcestershire County Council's insurers are dealing with four ongoing injury claims.
More on this story and others from Herefordshire and Worcestershire
While the authority wanted rid of the trees, neighbouring Wychavon District Council (WDC) had the option of countering the proposal by issuing a Tree Preservation Order, which would have won the trees a six-month reprieve.
It decided against the option.
'Risk of hazard'
Malcolm Meikle, the district council's former leader, said he believed poor upkeep of the trees has let the area down.
He said they were crucial to the character of a Georgian market town.
A WDC spokesperson said on Friday: "No Tree Preservation Order was issued and the trees can be removed.
"The rationale behind the decision was health and safety. Committee was mindful of the risk of hazard."
Worcestershire County Council plans to replace the London planes with crab apple trees, according to a report.