Charity sail around Zanzibar in a hollowed out log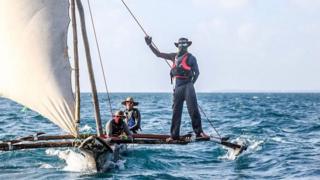 Three friends have completed a charity sailing trip down the coast of Tanzania and around Zanzibar in a hollowed out log with a bed sheet for a sail.
Thomas Lanyon-Hogg, 30, from Malvern in Worcestershire, said the "gruelling" 500km (350 mile) adventure saw them battle exposure and dehydration.
He, Alex Nimmo from London, and Rory Naylon, from Oxford, set sail as part of a group on 29 December.
He said they faced "many challenges" but were pleased to have raised £2,500.
Updates on this story and more from Worcestershire
They faced 8ft (2.4m) swells in a Ngalawa, a hollowed out mango tree trunk with two planks lashed on across for balance, in 40C (104F) heat.
"It was tough but worthwhile," Mr Lanyon-Hogg said.
They were sailing with eight other boats as part of a charity race.
"Our boat leaked constantly," he added.
"Every day something broke or fell off and usually when we were out in the middle of the sea.
"There were plenty of points we couldn't take it any more, but then you think of the sponsorship money and you just got to get back in the log and get going."
The friends will donate their funds to rainforest charity Cool Earth and a cancer hospice that looked after another of their friends.