Worcestershire council leader Adrian Hardman to stand down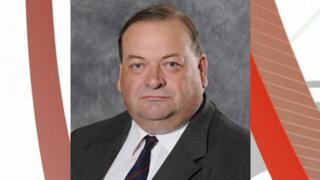 The leader of Worcestershire County Council has admitted drinking and driving and announced he is to stand down.
Adrian Hardman, a Conservative, was arrested after failing a breath test in Tewkesbury on 22 December.
Mr Hardman, leader of the council since 2010, is due to appear at Cheltenham Magistrates' Court on 18 January.
He said he would admit the charge and he wanted to apologise for what he described as a "gross misjudgement".
More updates on this story and others across Herefordshire and Worcestershire.
"I have fallen short of the standards that I set for myself and those that I expect from my fellow Worcestershire county councillors," said Mr Hardman.
"I will therefore be standing down as leader at the next full council meeting on 14 January.
"I fully support the drink-driving laws. I will be pleading guilty in court next month and will accept the punishment that is handed to me."
Gloucestershire Police previously said a 59-year-old man from Bredon had been charged with drinking and driving after he was arrested on Bredon Road, Tewkesbury at about 20:00 GMT on 22 December.