Dog rescued from well in Longdon after 10m fall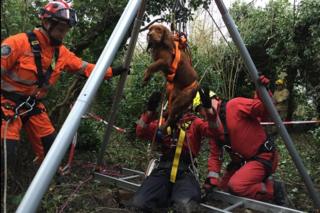 A dog has been rescued after falling about 10m (33ft) into a well when out with its owner in Worcestershire.
Specialist rescue teams from Pershore, Malvern and Droitwich were sent to help Lilly, a cocker spaniel who disappeared into the ground in Longdon, near Upton upon Severn.
The dry well had been hidden beneath undergrowth.
Crews ventilated the hole to make it safe for a firefighter to be lowered down and put the dog in a harness.
Lilly was unharmed by her adventure, which happened on Saturday and saw her stuck for about four hours.