Flood warning in place for River Wye in Hereford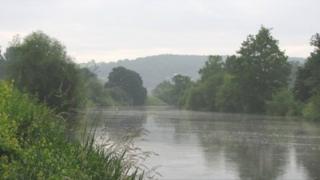 A flood warning has been issued for the River Wye in Hereford.
The Environment Agency said levels at the Mordiford gauge were at 4.22m (13.8ft) and rising. A peak level of up to 5.0m (16.4ft) is expected overnight.
River levels at Ross-On-Wye have reached 3.73m (12ft) and are also rising. A peak level of between 4.3 and 4.6m (14.1 and 15ft) is also expected overnight.
Light and patchy rain is forecast in Hereford for Sunday evening.
There are scores of flood warnings in England, Wales and Scotland.
An extra 500 troops have been brought in to deal with "unprecedented" flooding in Yorkshire and Lancashire.