Magna Carta returns to Hereford Cathedral from world tour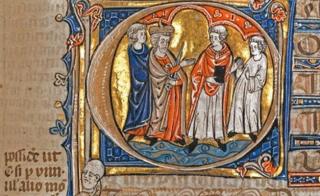 A rare copy of the Magna Carta has returned to Hereford Cathedral following a world tour.
The 1217 version was displayed in New York, China, Luxembourg, Malta, Portugal and Singapore and was even given its own first-class seat on a flight from the UK to the USA.
Originally issued by King John in 1215, the document was modified and reissued in subsequent years.
It established that everyone, including the king, was subject to the law.
More on this and other stories from Herefordshire
---
What was Magna Carta?
Magna Carta outlined basic rights with the principle that no-one was above the law, including the King
It charted the right to a fair trial and limits on taxation without representation
It inspired a number of other documents, including the US Constitution and the Universal Declaration of Human Rights
Only three clauses are still valid - the one guaranteeing the liberties of the English Church; the clause confirming the privileges of the City of London and other towns; and the clause that states that no free man shall be imprisoned without the lawful judgement of his equals
---
More than 25,000 visitors saw the Hereford Magna Carta during its world tour, which was part of celebrations to mark the 800th anniversary of the signing of the original document.
Canon Chris Pullin from Hereford Cathedral, who accompanied his Magna Carta on the global trip, said: "It has been a tremendous experience sharing such wonderful documents with people from around the world, and it is great to be back at home, sharing our tour stories and experiences with people from the diocese and surrounding counties."
From Friday 18 December until 2 January it will be on show in the cathedral, alongside the Mappa Mundi.