Evesham sub-station fire leaves homes without power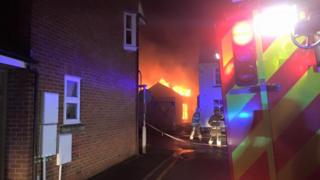 Hundreds of homes were left without power after a large fire at an electricity sub-station.
Western Power Distribution (WPD) said 418 properties were affected when the fire broke out in Bewdley Street, Evesham, Worcestershire.
Fire crews were called to the station on Saturday evening and power was not restored to some until Sunday.
The Evesham Observer reported 3,000 homes had been affected by intermittent power cuts.
The town's Tesco supermarket was evacuated because of the power loss, it added.
Fourteen people were assessed for smoke inhalation problems by West Midlands Ambulance Service, but no-one needed further treatment, the paper said.
Properties in Evesham and the WR11 postcode were amongst those affected.
A WPD spokesman said most of the 3,000 homes had their power restored within an hour but, due to safety reasons, engineers could not get on to site to restore the 418 served by the sub-station until 06:00 GMT.
These homes were served by temporary generators until repairs could be made.
The fire cause is still being investigated.