Flood warnings remain on River Wye in Hereford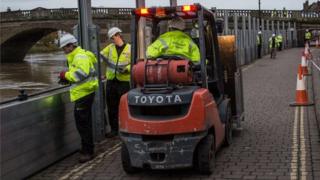 Four flood warnings remain on the River Wye in Hereford.
They apply in South Hereford, North Hereford, Hay to Hereford and from the town to Ross-on-Wye.
River levels in Worcestershire were expected to continue to rise on Thursday, amid warnings of further rain.
The Severn in Bewdley was expected to rise about another 0.5m (1.6ft), taking it on to the flood barriers, the Environment Agency said.
Further updates on this story and others in Hereford and Worcester
Dave Throup, Environment Agency manager for Herefordshire and Worcestershire, said the situation was being monitored.
"It's difficult to say as we're talking about rain that hasn't even fallen yet, but there's a lot of water in the system - it's racing through Bewdley now," he said.
"The flow [in Bewdley] is probably four times what it was a couple of days ago."
Barriers were put up in the town on Wednesday.
A flood gate in Upton-upon-Severn was closed as levels rose in the Severn.
Although river levels have risen in Worcester, Mr Throup said he was not expecting any problems there.
However, he said "it wouldn't take much" for levels on the Wye to rise.
The A438 at Willersley was closed by flooding and drivers were warned that smaller roads in the county could also be affected.